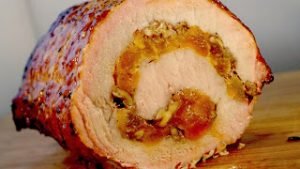 Stuffed and Rolled Pork Loin
Prep time:
Cook time:
Total time:
Ingredients
Pork loin
Pecan nuts a cup or so depending on the loin size
Powder Sugar 2 tablespoons
Honey 3 tablespoons
Dried apricots a cup or so depending on the loin size
White port cover the dried apricots
Apricot marmalade 5 tablespoons
Instructions
Set the oven to 350
Mix the pecan nuts with the honey and powder sugar
Place the pecan nuts on baking paper sheet and place it in the oven for 3 minutes.
Let the nuts cool down again.
Boil the apricots in the white port until they turn soft
Let the apricots cool down.
Cut open your pork loin. Start a ⅓ of the filet when you reach the end. Continue at half the thickness of the pork loin
When you opened your pork loin sprinkle it with salt and pepper
Chop the pecan nuts and apricots
Sprinkle the pecan nuts and apricots on the pork loin
Roll the pork loin and wrap it with butchers twine
Start your barbecue and add a wood chunk to your fire and smoke your pork loin indirect at 350
Smoke until the core reaches 145
Glaze the pork loin with apricot marmalade in the last 10 minutes, make sure it doesn't burn.
Carve the pork loin at the table.