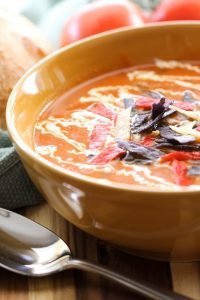 Fire Roasted Garlic Tomato Soup
Prep time:
Cook time:
Total time:
Ingredients
l large onion, diced
6 cloves garlic, minced (or use ¼ tsp dried minced for each clove)
Olive oil
2 - 28 to 32 oz cans tomatoes (I used "ready-cut" to keep it simple)
32 oz bottle fire roasted (or sun-dried) tomatoes (Costco has them for the most reasonable price in larger quantities)
2 - 8 oz cans tomato sauce
2 - 6 oz cans tomato paste
8 cups water (I added 8 - 10 chicken bouillon cubes for more flavor)
2 tsp salt
½ tsp pepper
2 cups milk or cream
Instructions
In a large soup kettle saute onion in olive oil until almost translucent.
Add garlic and continue to saute a few minutes more. Add tomatoes, sauce and paste - along with water.
Bring to a boil, cover and reduce heat to simmer for 30 minutes.
Puree in blender until desired consistency.
We put tortilla strips and a dab of sour cream on top!