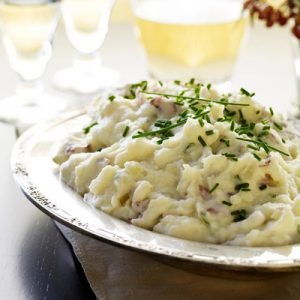 Lemony Mashed Potatoes with Sour Cream
Ingredients
4 pounds Yukon gold potatoes
1 cup unsalted, softened butter, in chunks
½ cup cream
½ cup half and half
Zest of 1 lemon
1 tablespoon lemon juice
1½ tablespoon salt
1 tablespoon pepper
1 cup sour cream
3 tablespoons chopped garden parsley and green onions
Instructions
Scrub and rinse potatoes well, then chop them into quarters and rinse under cold water.
Fill large saucepan with potatoes, then fill with water to cover by 1 inch. Bring to boil over medium-high heat and cook uncovered until tender to the fork, 25-30 minutes. Drain, return potatoes to pan and shake off excess moisture.
Add butter and mash it in, coating potatoes lightly. Add cream and mash until smooth, adding the half and half to thin and smooth potatoes if needed.
Finish with lemon juice, zest, salt, and pepper to taste.
Gently fold in sour cream, leaving ribbons of white. Garnish dish with chopped parsley and green onions.