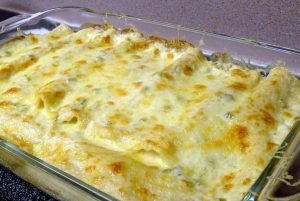 Enchiladas Dos
Prep time:
Cook time:
Total time:
Ingredients
½ pound ground beef
¼ cup chopped onion
½ teaspoon salt
4 6-inch flour tortillas
1 4-ounce can taco sauce
½ cup shredded Cheddar cheese
2 tablespoons butter
2 tablespoons all-purpose flour
1 teaspoon instant chicken bouillon granules
⅔ cup water
2 tablespoons chopped canned green chili peppers
⅓ cup dairy sour cream
Instructions
Cook beef and onion till meat is browned and onion is tender; drain off excess fat. Stir in salt.
Divide meat onto tortillas; top each with about ¼ of the taco sauce and 1 tablespoon of the cheese. Roll up.
Place sea side down in a 10x6x2 inch baking dish. In saucepan melt butter. Blend in flour and chicken bouillon granules. Stir in water. Cook and stir till thickened and bubbly. Stir in chili peppers. Gradually stir about half the hot mixture into sour cream; return to remaining hot mixture in saucepan.
Pour over tortillas in baking dish.
Bake, uncovered, at 350° till heated through, about 15 minutes. Sprinkle with remaining cheese. Bake till cheese melts, about 2 minutes longer.