I joined the Navy in 1976 in the delayed entry program and when into boot camp in Jan 1977 in San Diego. After boot camp I stayed in San Diego for Basic Electronics and Electricity (BE&E) school which was about 6 weeks long. During the school a submarine recruiter talked with the class and was looking for volunteers for submarine duty. I was originally scheduled to go to radar school in Great Lakes Illinois for 6 months. When the recruiter spoke about going to Pensacola Florida for Submarine Electronic Technician Electronic Warfare Maintenance Technology, my hand was up in a flash! No snow, just beaches, warm weather, I'm in! So my submarine life began. Over the next year or so, I finished the schools in Florida then to Groton Connecticut for basic submarine training and a few more schools. Then on to my first submarine home ported in Norfolk, Virginia, USS Sea Devil SSN 664 from Oct 78 – Feb 84.
I reported aboard as a Electronics Technician (ET) third class petty officer and was onboard her from Oct 1978 to Feb 1984. During my time on submarines we used 18 hour days, 6 hours on watch, 6 hours doing maintenance and 6 hours rest. I was one of three Electronic Support Measures (ESM) technicians. I earned my Enlisted Submarine Warfare pin and spent a bit over 5 years and was promoted to First Class Petty Officer during my tour.
During this time I meet Jo-Ann through some mutual friends, Vicki and Mike Poteet while home on leave. We dated on and off for a year or so before we were engaged and then married in July 1979. We lived in an apartment in Newport News for a short time before the ship did a home port change to Charleston, South Carolina. JoAnn handled the move to Charleston by herself. During the trip from Norfolk to Charleston I was allowed to have my Dad along for the 2+ day trip. He really enjoyed his time onboard as he followed me around as I stood watch and other duties. On the other hand my Moms really mad as she wanted to also go on the trip, but at that time women were not allowed on anything more then day trips.
The contract to build Sea Devil was awarded to Newport News Shipbuilding and Dry Dock Company in Newport News, Virginia. on 28 May 1964, and her keel was laid down there on 12 April 1966. She was launched on 5 October 1967, sponsored by Mrs. Ignatius J. Galantin, the wife of Admiral Ignatius J. "Pete" Galantin (1910–2004), and commissioned on 30 January 1969 with Commander Richard A. Currier in command.
Sea Devil was assigned to Submarine Division 62 at Norfolk, Virginia. She operated out of Norfolk into at least 1977.
Sea Devil was decommissioned on 16 October 1991 and stricken from the Naval Vessel Register the same day. Her scrapping via the Nuclear-Powered Ship and Submarine Recycling Program at Puget Sound Naval Shipyard in Bremerton, Washington, began on 1 March 1998 and was completed on 7 September 1999.
Jan 1980 entered the Arctic Circle, become a Blue Nose.
Feb to July 1980 was on a North Atlantic-Mediterranean deployment.
May to Aug 1981 was on a Mediterranean deployment.
In August of 1981 the SEA DEVIL left her home port in Norfolk and SubRon6 to become a unit of SubRon4 in Charleston South Carolina.
In October of 1981 she entered Charleston Navy Ship Yard for a 20 month refueling overhaul and a complete weapon systems refit to carry the Tomahawk Cruise Missile. She was the first nuclear submarine to complete this overhaul 3 months early.
Division crew members I served with.

ETC (SS) Arthur Brown
ET1 (SS) Bill Wann
ET1 (SS) Pete Flye
ET1 (SS) James Walker
ET1 (SS) Al Paulson
ET1 (SS) Leonard DeSanto
ET1 (SS) Shepard
ET1 (SS) Kelly Choi
ET3 (SS) Greg Morrison
Career
Name:
USS Sea Devil
Namesake:
The sea devil (Manta birostria), also known as the manta ray and devil ray
Ordered:
28 May 1964
Builder:
Newport News Shipbuilding and Dry Dock Company, Newport News, Virginia
Laid down:
12 April 1966
Launched:
5 October 1967
Sponsored by:
Mrs. Ignatius J. Galantin
Commissioned:
30 January 1969
Decommissioned:
16 October 1991
Struck:
16 October 1991
Fate:
Scrapping via Ship and Submarine Recycling Program begun 1 March 1998, completed 7 September 1999
General characteristics
Class & type:
Sturgeon-class attack submarine
Displacement:
3,860 long tons (3,922 t) light
4,268 long tons (4,336 t) full
408 long tons (415 t) dead
Length:
292 ft 3 in (89.08 m)
Beam:
31 ft 8 in (9.65 m)
Draft:
28 ft 8 in (8.74 m)
Installed power:
15,000 shaft horsepower (11.2 megawatts)
Propulsion:
One S5W nuclear reactor, two steam turbines, one screw
Speed:
15 knots (28 km/h; 17 mph) surfaced
25 knots (46 km/h; 29 mph) submerged
Test depth:
1,300 feet (396 meters)
Complement:
108
Armament:
4 × 21-inch (533 mm) torpedo tubes
Then I was transferred to Mobile Technical Unit Ten (MOTU Ten) in Charleston, South Carolina from Feb 84 – Feb 87. Here I was on call to the fleet as a system expert in many systems. I become an instructor for basic soldering, radio and Telecommunications Electronics Material Protected from Emanating Spurious Transmissions (TEMPEST) classes. I became a TEMPEST inspector and did many shipboard inspections. I was selected to Chief Petty Officer during my tour.
During this time, JoAnn and I purchased our first home in Summerville, SC. I also stated college and did graduate with a Bachelor of Science from Southern University (formerly Baptist College at Charleston). It's also the birthplace of Rob and Nicole.
Members I did my tour with.
ETCS (SS) Doug Acevedo
Next I was detailed to USS Jacksonville (SSN 699) home ported in Norfolk, Virginia from Mar 87 – Sept 90. I was originally detailed to USS Spadefish SSN 668 but was routed to USS Jacksonville as they were on deployment and they lost their electronics chief. In 1988, we participated in a shock trials test program for Los Angeles-class submarines, which was followed by a three-year major modernization overhaul in Norfolk Naval Shipyard. I was selected and promoted to Senior Chief Petty Officer.
USS Jacksonville (SSN-699), a Los Angeles class attack submarine, is the only ship of the United States Navy to be named for Jacksonville, Florida. The ship is nicknamed "The Bold One". The contract to build her was awarded to the Electric Boat Division of General Dynamics Corporation in Groton, Connecticut on 24 January 1972 and her keel was laid down on 21 February 1976. She was launched on 18 November 1978 using the pontoon system designed for the launching of the Ohio Class Trident Submarines. The Jacksonville was sponsored by Mrs. Charles E. Bennett, and commissioned on 16 May 1981, with Captain Robert B. Wilkinson in command.
Jacksonville's operations have included a variety of fleet exercises and deployments including two around-the-world cruises in 1982 and 1985, deployments to the western Atlantic Ocean in 1983, 1986, 1993 and 1994, and deployments to the Mediterranean Sea in 1987 and 1993. In 1988, Jacksonville participated in a shock trials test program for Los Angeles class submarines, which was followed by a three-year major modernization overhaul in Norfolk Naval Shipyard.
January , 1987 USS Jacksonville departed Naval Station Norfolk for its maiden Mediterranean deployment. Returned in June.
November 12, 1987 Cmdr. A. J. Watson relieved Cmdr. J. P. Davis as CO of the Jacksonville.
From January through March 1988, the Jacksonville was underway for a shock trials test program for Los Angeles-class submarines in the Arctic Circle.
November 10, 1989 Cmdr. Timothy J. Traverso relieved Cmdr. A. J. Watson as CO of the Jacksonville.
January 17, 1991 USS Jacksonville moved from Dry Dock #2 to Beth 6 at Norfolk Naval Shipyard. Underway for sea trials on Dec. 2.
Career (US)
Name:
USS Jacksonville
Namesake:
City of Jacksonville, Florida
Ordered:
24 January 1972
Builder:
General Dynamics Electric Boat
Laid down:
21 February 1976
Launched:
18 November 1978
Commissioned:
16 May 1981
Status:
in active service, as of 2022
Badge:
General characteristics
Displacement:
5,720 tons light, 6,149 tons full, 429 tons dead
Length:
110.3 meters (362 feet)
Beam:
10 meters (33 feet)
Draft:
9.7 meters (32 feet)
Propulsion:
One S6G reactor
Complement:
12 officers, 98 men
Goat Locker during my time onboard
MMCS(SS) Dan Hengerer (COB)
MMCS(SS) Dan Shelton
RMC(SS/SW) Roy Shobe
QMC(SS) Redd
ETC(SS) Robert Lance
MMC(SS) Larry Wida
STSC(SS) LaPlante
MMC(SS) Carthy (sp)
EMC(SS) Scanlan
STSC(SS) Ron Poole
ICC(SS) Chuck Wolfe
MMCS(SS) H… (sp) (Bull Nuc)
MMCS(SS) Zeb Bowyer (Bull Nuc)
MMC(SS) Duane Farrell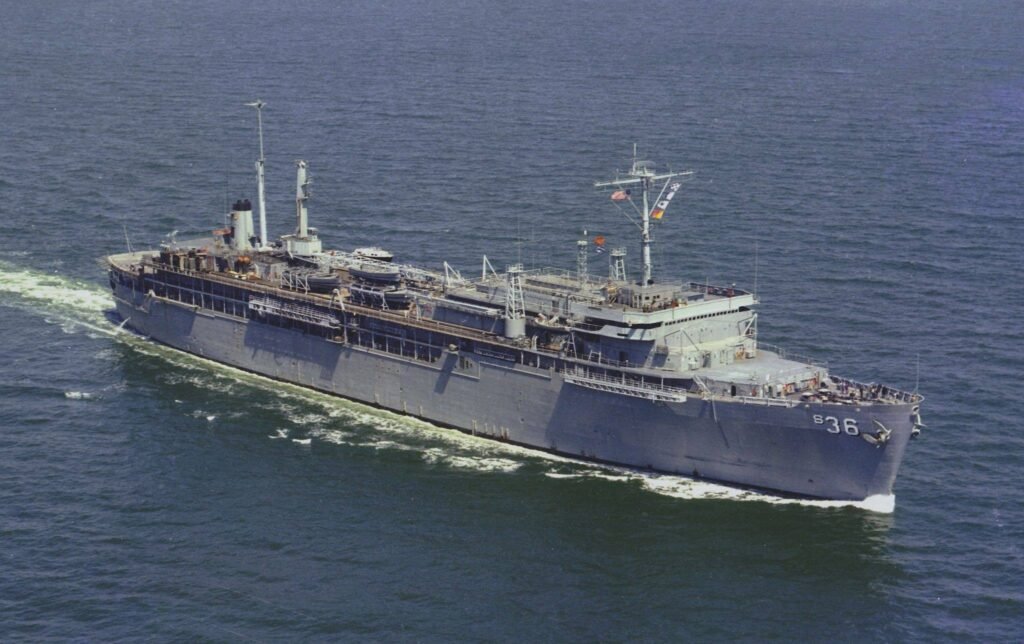 Then on to my next duty station as the Senior Ships Superintendent for the repair department aboard USS L. Y. Spear (AS 36) home ported in Norfolk, Virginia from Oct 90 – Jun 94. We deployed to the Persian Gulf in support of Operation Desert Storm and we were the first ship to arrive in Kuwait to help rebuild. I was selected as a Chief Warrant Officer 2 (CWO2) and sent back to Pensacola Florida for Officer Training School.
USS L. Y. Spear (AS-36) was the lead ship of her class of submarine tenders, in service to the United States Navy from 1970 through 1996. She was named for Lawrence York Spear, a former Navy lieutenant who played an integral role in submarine design at Electric Boat Company before and during World War II.
L. Y. Spear was laid down by General Dynamics Quincy Shipbuilding Division at Quincy, Massachusetts on 5 May 1966; launched on 7 September 1967; sponsored by the wife of Vice Admiral Schade, Commander, Submarine Force, Atlantic Fleet; and commissioned on 22 February 1970.
Designed primarily to service nuclear attack submarines, L. Y. Spear was assigned to Submarine Squadron 6 with Norfolk, Virginia as her home port. She had the capability to provide logistic and technical support for as many as 12 submarines and service four of them alongside simultaneously.
L. Y. Spear was decommissioned on 6 September 1996 and struck from the Navy Register on 3 May 1999. She was berthed at the Norfolk Naval Shipyard in Portsmouth, Virginia, from 1999 till 2010. On 9 July 2010, a contract to dismantle L. Y. Spear was issued to ESCO Marine, Brownsville, Tx. She departed the Norfolk Naval Shipyard at the end of August 2010 and was completely dismantled by 14 July 2011.
Career
Name:
USS L. Y. Spear (AS-36)
Namesake:
Lawrence York Spear
Builder:
General Dynamics Quincy Shipbuilding Division
Laid down:
5 May 1966
Launched:
7 September 1967
Acquired:
11 February 1970
Commissioned:
22 February 1970
Decommissioned:
6 September 1996
Struck:
3 May 1999
Fate:
Sold to ESCO Marine, Brownsville, Tx 9 July 2010
Status:
Scrapped
General characteristics
Displacement:
22,640 tons
Length:
644 ft (196 m)
Beam:
29 ft (8.8 m)
Draft:
57 ft (17 m)
Propulsion:
steam turbine engine, 1 propeller
Speed:
20 knots
Complement:
1,338
Armament:
four .50 cal. mg
As a CWO I could not go back to submarines and was detailed to USS Conolly (DD 979) home ported in Norfolk, Virginia from Aug 94 – Dec 97. She was on deployment in the Mediterranean when I arrived. I was the Electronics Material Officer (EMO) and I earned my Surface Warfare Officer pin and qualified underway Officer of the Deck (OOD). I was also qualified as the Tactical Action Officer (TAO) and enjoyed deploying the helos and firing the 5″/54 caliber Mark 45 guns. We did a home port change to Jacksonville, Florida.
As part of a reorganization announced in July 1995 of the U.S. Atlantic Fleet's surface combatant ships into six core battle groups, nine destroyer squadrons and a new Western Hemisphere Group, Conolly's homeport was changed from Norfolk, Virginia, to Mayport, Florida, with the shift to occur in 1996–1997.
Conolly deployed with the USS George Washington carrier battle group, on 26 January 1996 for a regularly scheduled deployment. The previous December, the battle group and ARG participated in Joint Task Force Exercise 96-1, their "final examination" before deployment, and the culmination of a year of intense preparation.
While deployed, Conolly took part in the Ships Anti-Submarine Warfare Readiness Effectiveness Measuring 114 (SHAREM) Invitational Exercise 1-96 (INVITEX), held 23 February – 29 February. SHAREM 114 was a U.S. 6th Fleet naval exercise conducted in the Gulf of Valencia off the east coast of Spain.
Following the completion of Operation Destined Glory 96, a NATO amphibious exercise, Conolly paid a visit to Augusta Bay, Sicily. Operation Destined Glory 96, lasted 16 days and was a NATO forces combined amphibious exercise which began 13 March and continued through 26 March. It tested forces in the air and at sea in the Central Mediterranean near Sardinia and in the Tyrrhenian Sea and also trained ashore at Capo Teulada, Sardinia. Military units from the NATO countries of Greece, Italy, Netherlands, Spain, Turkey and United States took part in the exercise which focused on undersea, surface, electronic and air warfare, and included communications and ship handling skills.
On 11 April, Conolly was tasked with escorting USS Guam, USS Trenton and USS Portland to Liberia from the Adriatic Sea in support of JTF Assured Response. Guam, Trenton, Portland and Conolly were conducting routine training when they were directed to the coastal waters off Liberia.
Conolly also assisted in search and rescue efforts when the airplane carrying United States Commerce Department Secretary Ron Brown crashed. It participated in Operation Sharp Guard, enforcing United Nations Security Council resolutions in the former republics of Yugoslavia. While on station, Conolly queried 121 merchant vessels, ensuring no contraband cargo entered the troubled region.
In June 1996, Conolly took part in Exercise TAPON 96, an allied exercise held in the Alboran Sea, Gulf of Cadiz and the eastern Atlantic Ocean. Conolly conducted combined warfare exercises with the Spanish aircraft carrier Principe de Asturias, and other surface ships including SPS Baleares (F 71), SPS Santa Maria (F 81), SPS Numancia (F 83), the Greek destroyer HS Formion (D 220), the Spanish submarine SPS Delfin (S 61) and the US submarine Grayling. Conolly participated in the nine-day exercise which emphasized procedures and tactics for effective maritime choke-point control. Conolly also completed live-firing exercises in the Central Mediterranean Sea at Avgo Nisi gun-firing range, a small island north of Crete, Greece. She then traveled toward Sicily and conducted a torpedo-firing exercise.
In March 1997, Conolly shifted home port from Norfolk, VA. to Mayport, FL.
Career (US)
Namesake:
Richard Lansing Conolly
Ordered:
15 January 1974
Builder:
Ingalls Shipbuilding
Laid down:
29 September 1975
Launched:
3 June 1977
Acquired:
25 September 1978
Commissioned:
14 October 1978
Decommissioned:
18 September 1998
Struck:
18 September 1998
Fate:
Sunk as target, 29 April 2009
General characteristics
Class & type:
Spruance-class destroyer
Displacement:
8,040 (long) tons full load
Length:
529 ft (161 m) waterline; 563 ft (172 m) overall
Beam:
55 ft (16.8 m)
Draft:
29 ft (8.8 m)
Propulsion:
4 × General Electric LM2500 gas turbines, 2 shafts, 80,000 shp (60 MW)
Speed:
32.5 knots (60 km/h)
Range:
6,000 nautical miles (11,000 km; 6,900 mi) at 20 knots (37 km/h; 23 mph)3,300 nautical miles (6,100 km; 3,800 mi) at 30 knots (56 km/h; 35 mph)
Complement:
19 officers, 315 enlisted
Sensors and
processing systems:
AN/SPS-40 air search radarAN/SPG-60 fire control radarAN/SPS-55 surface search radarAN/SPQ-9 gun fire control radarMk 23 TAS automatic detection and tracking radarAN/SPS-65 Missile fire control radarAN/SQS-53 bow mounted Active sonarAN/SQR-19 TACTAS towed array Passive sonarNaval Tactical Data System
Electronic warfare
& decoys:
AN/SLQ-32 Electronic Warfare SystemAN/SLQ-25 Nixie Torpedo CountermeasuresMark 36 SRBOC Decoy Launching SystemAN/SLQ-49 Inflatable Decoys
Armament:
2 x 5 in (127 mm) 54 calibre Mark 45 dual purpose guns2 x 20 mm Phalanx CIWS Mark 15 guns1 x 8 cell ASROC launcher (removed)1 x 8 cell NATO Sea Sparrow Mark 29 missile launcher2 x quadruple Harpoon missile canisters2 x Mark 32 triple 12.75 in (324 mm) torpedo tubes (Mk 46 torpedoes)2 x quadruple ABL Mark 43 Tomahawk missile launchers
Aircraft carried:
2 x Sikorsky SH-60 Seahawk LAMPS III helicopters.
Motto:
Leading The Way
Awards
My last station was on the air side of the Navy at Fleet Area Control and Surveillance Facility, Virginia Capes (FACSFAC VACAPES) in Virginia Beach, Virginia from Dec 97 – Aug 00. I was the Electronics Material Officer and Supply Officer. We managed the Virginia Capes Operating Area (VACAPES OPAREA / VCOA) which is a surface and subsurface operating area off the Virginia and North Carolina coasts. I was selected and promoted to Chief Warrant Officer 3.
This was my last duty station as my detailer could not find another position that I had not already done and the one thing I enjoyed the most in the Navy was that every position I took was always new and challenging. The only thing he could offer me was the Assistant EMO on the USS Carl Vinson CVN-70, but I had completed EMO assignments on a destroyer and an air traffic control facility and as I had completed positions in the subsurface, surface and air side of the Navy, I elected to retire after 24 years.
FACSFAC VACAPES was established in 1977 with the mission of scheduling, control, and surveillance of military operating areas, training routes, and bombing ranges for the northeastern United States. For over 40 years, the unit's mission has grown considerably. "Giant Killer" now oversees more than 112,000 miles of offshore air, surface, and sub-surface operating areas stretching from Narragansett Bay, Rhode Island, to Charleston, South Carolina. Within FACSFAC VACAPES resides Fleet Forces Atlantic Exercise Coordination Center (FFAECC) and Contract Air Services (CAS), where planners schedule and coordinate all aspects of the Navy's largest exercises, unit level training, and hazardous events. Everything from water and air space to ships and aircraft, support vessels, signals, targets, surveillance and control; they play a key role in enabling dynamic and realistic training for our Nation's fleet operators.
With more than one hundred thirty Officers, Chiefs, and Sailors as well over 50 civilian professionals, the facility and its eight remote communication sites operate 24 hours a day, 365 days a year.
Giant Killer Sailors provide air traffic control for more than 80,000 sorties operating in their special use airspace. Additionally, our Operations Specialists deconflict over 10,000 surface and subsurface events per year, including missile exercises, Unit Level Training, NASA rocket launches, gunnery evolutions, or underwater detonation drills.
The Giant Killer team also provides a critical link between US Coast Guard and Department of Defense units by providing a crucial conduit for the safe and expeditious employment of Search and Rescue operations and medical evacuations within the operating area.
Included within the VACAPES area of responsibility is the Navy Dare Bombing Range located just inland of the North Carolina Outer Banks. The Navy's primary range for inert freefall ordnance, strafe, and Joint Tactical Air Controller (JTAC) training within the Mid-Atlantic region, Navy Dare Bombing Range encompasses more than 40,000 acres and supports over 4,500 annual missions for Navy and Joint operational users making it the Navy's busiest range on the East Coast.
In addition to Giant Killer's core mission, the compound is home to NSWC Corona's Large Area Tracking Range (LATR) and Electronic Warfare (EW) Pod shops, as well as the VACAPES Range Operations Center, from which Commander, Strike Group FOUR (CSG-4) directs all opposition force (OPFOR) scenarios for major fleet training evolutions.
When combined with the daily functions performed by command Sailors, FFAECC and CAS Planners, and the Dare Range operators, Giant Killer plays a vital role in the training and readiness of the Atlantic Fleet and Joint Forces.
My Personal Awards
Navy Commendation Medals (2)
Navy Achievement Medals (4)
Navy Unit Commendation
Meritorious Unit Commendation
Navy "E" Ribbon
Good Conduct (4)
Navy Expeditionary Medal
National Defense Service Medal
Armed Forces Expeditionary Medal
Southwest Asia Service Medal
Sea Service Deployment Ribbon
Navy Arctic Service Ribbon
Kuwait Liberation Medal (Kuwait)
Pistol Marksmanship Ribbon