As our time at Verde Valley RV Resort comes to a close we revisit the town of Sedona take a train ride and sing to Neil Diamond songs.
We heard that  the Verde Canyon Railroad was something not to be missed so we spent a half a day on a  train. We ended up in first class which included a buffet lunch which was great and filling, the chocolate cookies were of course my favorite. The scenery was some of the best around and along with the history we had a great time.
We also went back to Sedona to do the Red Rock Loop. We stopped at Red Rock Crossing state park were we took a lot of pictures of Cathedral Rock.  We went to the airport to take some pictures from above the city. Then on to lunch at Café Jose, Jo-Ann got the Sedona burger, it was huge! Add in onion rings and it was a days' worth of food. But she finished it! Amazing! I stuck with the Mexican theme and had the shredded beef nachos, which I could not finish!
Our Friday night entertainment at the park was a 2 hour Neil Diamond tribute show by Jeff Powell singing 20+ Neil Diamond hits mixed with other notable artists,  hits  from Kenny Rogers, Kenny Chesney, Glen Campbell, Paul Davis,  Roger Whitaker, Billy Joel. He was pretty good and gave a lot of interesting information about Neil Diamond and his songs. It was a very fun night.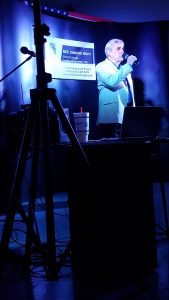 The last touristy thing was a wine tasting at Alcantara Vineyards which happens to be right next door to the Thousand Trails park. It was a busy afternoon but we did get a table and get to rest a bit with some wine samples. All were pretty good, some better then others, but in the end we both liked the whites over the reds and the semi-sweet over the dry wines.
So we're headed back to the General Patton Museum and then on to Soledad Canyon RV Resort in Acton California for the next few weeks.