Well it's been a while since my last post and really not much happened. We had to deal with dental for us and the dogs then on to medical appointments for both of us. Both Bily and Maggie ended up having three teeth pulled, luckily they have a few more then we do, so I don't think they'll miss them. I had broken a piece off of one of my back molars sometime in November so it was time to get that fixed, I got tired of chewing on only one side. We spent time with family and friends. We had Christmas dinner at my sisters house with our mom and dad along with other family members.
We stayed as long as we could but the cold weather was starting to get to both of us. We left on the 19th of January just before a huge snow storm hit the SLC area. My sister texted us that she has 3 feet of snow in her driveway. Man, we are so glad we got out of there just in the nick of time.
We went south and spent the night at the Walmart in Mesquite, NV. We were the only ones there and got our favorite spot. There's a large dirt lot that we parked next to and it allows us to open the driver side slides but anyone looking from the parking lot you can't tell. We have both air and hydraulic leveling so we use the air leveling, so it appears that we are just parked. It was a quiet night and when we woke there were 3 semi's, a fifth wheel, 3 trailers and a slide in truck camper parked next to us.
Our next stop was at Desert Diamond Distillery for the night. We had a great time with a rum and vodka tasting and having the owner take us on a tour, we learned a lot about rum and vodka. We spent time with them chatting about all sorts of things before they left for the night and we got to spend the night on the distillery property.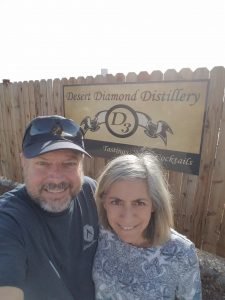 On to our next stop, Casa Grande Arizona.