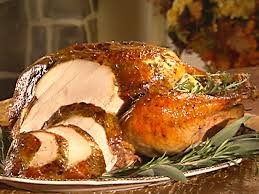 Roasted Butter Herb Turkey
Prep time:
Cook time:
Total time:
Ingredients
¾ cup butter, softened
1½ teaspoons poultry seasoning
2 tablespoons garlic herb sauce mix (recommended: Knorr)
1½ teaspoons crushed garlic
1 (32-ounce) bag celery and carrot party sticks
2 large onions, large dice
1 (32-ounce) container low-sodium chicken broth
12-pound turkey, thawed if necessary
1 tablespoon salt
1 tablespoon pepper
3 (3/4-ounce) packets fresh herbs poultry herb blend (sage, thyme and rosemary)
1 lemon, thickly sliced
Instructions
In a small bowl, combine softened butter, poultry seasoning, garlic herb sauce mix, and crushed garlic. Use a fork to mix together until well combined. Cover and put in the refrigerator for 15 to 30 minutes, until firm but not hard.
Preheat the oven to 450 degrees F.
Arrange celery, carrots, and half of the diced onions in the bottom of a roasting pan. Add chicken broth and set aside.
Rinse the thawed turkey and pat dry. Use your finger to carefully loosen the skin around the entire bird. Take the butter mixture and cut into large pieces. Place the butter pieces under the skin of the entire turkey. Rub the remaining butter pieces on the outside of the skin and season with salt and pepper. Stuff the inside of turkey cavity with remaining onions, fresh herb poultry blend, and lemon slices. (Truss if necessary.) Insert the pop-up thermometer at an angle about 3-inches down from the neck cavity and 2-inches from the breast bone, in the thickest part of the breast.
Place turkey on the bed of vegetables in roasting pan. Place in the oven and reduce temperature to 325 degrees F. Roast for 1 hour, then baste with pan juices every 20 minutes until thermometer pops up or until an instant-read thermometer inserted into the thigh registers 180 degrees F, about 3 hours.
Or smoke in a smoker.