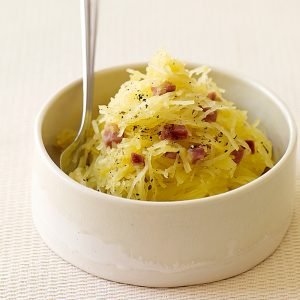 Garlicky-Kielbasa Spaghetti Squash
Prep time:
Cook time:
Total time:
Ingredients
1½ pound(s) uncooked spaghetti squash, seeds removed
2 tsp olive oil
3 oz kielbasa, finely chopped
2 clove(s) garlic clove(s), chopped (or to taste)
½ tsp ground cumin
⅛ tsp table salt, or to taste
⅛ tsp black pepper, or to taste
Instructions
Preheat oven to 375°F. Halve squash lengthwise and scoop out seeds. Place squash, cut-side down, on a large baking sheet and prick skin all over with a fork. Bake until tender, about 45 minutes.
After squash has cooked for 35 minutes, warm oil in a large nonstick skillet over medium-low heat. Add kielbasa, garlic and cumin. Cook until fragrant, about 2 minutes; set aside until squash is done.
Remove squash from oven and scrape flesh into skillet using a fork (will resemble spaghetti strands); toss until evenly coated. Season to taste with salt and pepper; serve. Yields about ¾ cup per serving.