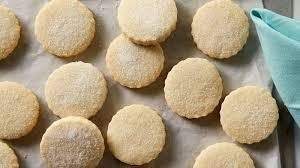 Shortbread Cookies
Prep time:
Cook time:
Total time:
I bake ½ the batch for the 2 of us. I bake for 15-16 minutes in the motorhome oven.
Ingredients
2 cups butter, softened
1 cup white sugar
2 teaspoons vanilla extract
4 cups all-purpose flour
1 cup semisweet chocolate chips
2 teaspoons shortening
Instructions
Preheat oven to 350 degrees F (180 degrees C).
Cream butter and sugar until fluffy. Stir in vanilla; add flour and mix well.
Put through cookie press and form cookies onto baking sheets. Bake for 10 - 12 minutes.
For chocolate dip. In small microwavable bowl, microwave chocolate chips and shortening uncovered on High 1 to 1½ minutes or until melted; stir until smooth. Dip half of each cooled cookie into melted chocolate.