We made it to Rancho Oso RV Resort just in time. Two days later they closed the lower campground and moved those there to the upper campground where we are. We had friends still at Soledad Canyon RV campground that were going to Rancho Oso a few days after us but they were told not to come, that now there was no room. The resort in inside the Los Padres National Forest and its beautiful.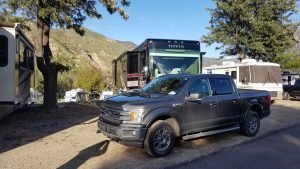 This area was hit with a huge rain and lightning storm on Tuesday. Each time the lightning struck it lit the whole place up and then the thunder came 1 to 2 seconds away followed by the sounds of many turkeys! It was the thunder sound that scared them.
We went on a small hike to see the ruins of the Knapp's castle. Looks like someone is trying to restore it, I can see why the views were absolutely  spectacular.
Coming down the mountain road we stopped to take photos of Santa Barbara and the ocean beyond. And yes, the obligatory selfie to prove we really are there!